If Office activation fails, you will see Unlicensed Product or Non-commercial Use / Unlicensed Product in the title bar of your Office applications, and most Office features are disable. To restore all Office features, you must resolve the problem that causes the activation to fail.
Unlicensed Product Error Office 2019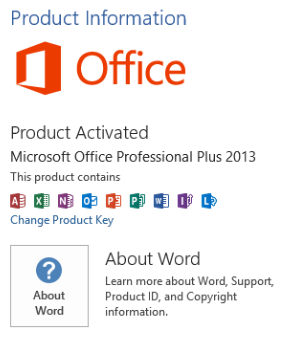 Log in to Office with the correct account.
Check for multiple copies of the Office.
Verify the status of your subscription.
Solve the activation problems.
Here the clear procedure of solving Unlicense Product Error Office 2019 or Non-commercial Use / Unlicensed Product in the title bar of your Office applications
Step 1: Log in with the Correct Account
Try logging in with all your personal email addresses in case you bought Office with a different email address. If you are at work or school, you may need to log in with your professional or educational account instead of your personal email account.
To verify if your Microsoft account is associated with Office, log in to Services and subscriptions. Your Office product or Office 365 subscription must appear there. Otherwise, your email address will not work to log in to Office.
Step 2: Check for Multiple Copies of Office
Activation may fail if you have so many copies of Microsoft Office installed. Uninstall the previous version of Office that you are not using before continuing with troubleshooting.
1. Open Control Panel by following the steps below for your operating system:
• Windows 10 On the Windows 10 taskbar, type Control Panel in the Type here to search box, select Control Panel in the search results and then select Programs and Features.
• Windows 8.1 or 8 Right-click the Start button (lower-left corner), select Control Panel and then select Programs and Features.
2. Programs and features box (upper right corner) of Programs and features, search for the word office. If more than one version appears, right-click the version you are not using and select Uninstall.
3. After the uninstall process is complete, restart your computer.
4. Open an Office application and log in, if prompted.
5. If Office is not yet activated, try running an online repair as described in Repairing an Office application to fix the remaining installation of Office. If you still cannot activate, continue with the next step.
Step 3: Verify the Status of Your Office 365 Subscription
If you have an Office 365 home subscription, make sure it is still active and, if necessary, renew your subscription.
If you do not have Office 365, you can go to Step 4: Troubleshoot Office activation problems.
Close all Office applications.
Go to the Services and Subscriptions page.
If prompted, choose Sign in and enter the email and password for the Microsoft account associated with your Office 365 subscription.
Review the details under the Subscriptions heading or the Subscriptions canceled heading.
If your subscription has expired, you can renew it by following the steps in Renew Office 365 for home.
After renewing your subscription, you can restart your Office applications as necessary. If Office is not yet activated, continue with the next step
Step 4: troubleshoot Office activation problems
Select your version of Office for troubleshooting steps:
Fix Unlicensed Product Errors Yourself
If you have try the previous troubleshooting steps and Office is not license yet, you can solve the activation errors yourself.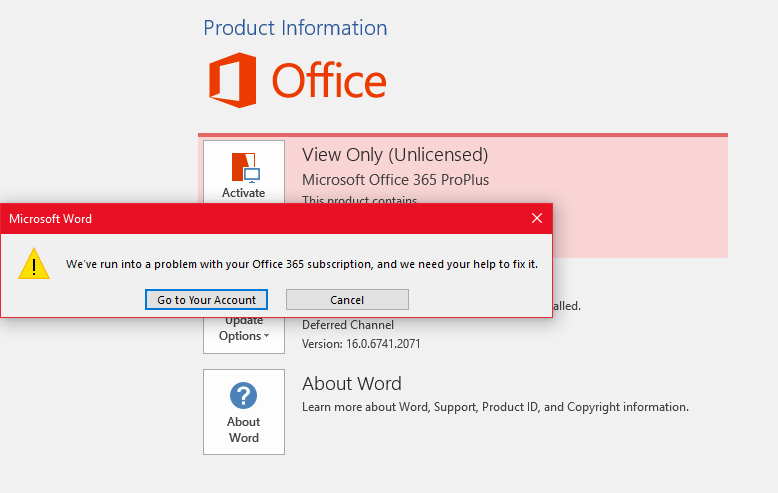 Try this First:
Check the date, time, and time zone of your computer
Run Office as administrator
Update office
Office license repair (Office 2013 only)
Verify connectivity
Check your firewall
Check your antivirus software
Verify proxy settings
Still, need help?
FAQ's
Why word is showing unlicensed product?
Word program shows unlicensed product message on it if the product is not activated. The Word program requires an official license key for activation. There are two modes of activation:
25 character product key –
It can be purchase from the store or online. The card given to any store looks like a scratch card.
Office license through the Microsoft Account- This method requires you to buy a product key online from the office.com website and it registers and activities your key once you log in.
An office word can also be activated through online activation or telephone activation.
Internet activation is the first method and it requires the product key to be entered first before activation.
The telephone activation option is secondary. If the internet activation fails due to internet connection issues, you can choose the telephone activation method.
A telephone activation provides you with an ID Number that requires to put on the phone keypad to generate the activation code.
What if the office program shows unlicensed after successful activation?
Here are the reasons,
The product must have been install on another computer. Or
The product is activated more than its limit.
The product is reinstalled on an existing product. If there are multiple keys installed on the same computer, it causes conflicts in the detection of your actual product key.
In such cases, we have to de-register or uninstall the old product keys through script advanced key commands and then install the new activation key.
If the activation fails to do automatic, then there is a phone activation procedure and you can also intimate the technical team if the product key doesn't get activated.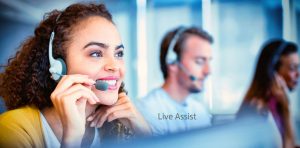 We are providing chat support services with related Microsoft products like office, outlook, antivirus, etc., So you can follow the above steps after that it is not possible. So at that time can contact immediately and solved your issue within a short period of time.
Related Error Codes :
unlicensed product Microsoft office 2010,
Microsoft office unlicensed product crack,
unlicensed product Microsoft office 2016,
unlicensed product Microsoft office 2019,
Microsoft office 2013 unlicensed product crack,
Microsoft office 2010 unlicensed product crack,
this product is unlicensed connect to your corporate,
skype for the business unlicensed product.
Peoples search also:
unlicensed product office 365 fix, excel unlicensed product, Microsoft word unlicensed product, word unlicensed product, office 365 unlicensed product, excel noncommercial use unlicensed product, unlicense product, Microsoft office product, outlook  and activation errors in office